Japan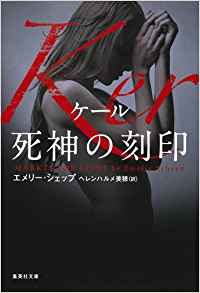 Buy at:
Ker 死神の刻印
When a high-ranking head of the migration board is found shot to death in his living room, there is no shortage of suspects, including his wife. But no one expects to find mysterious, child-size fingerprints in this childless home.
Public prosecutor Jana Berzelius steps in to lead the investigation. Young and brilliant but emotionally cold, Berzelius, like her famous prosecutor father, won't be swayed by the hysterical widow or intimidated by the threatening letters the victim had tried to hide. She is steely, aloof, impenetrable. That is, until the boy…
A few days later on a nearby deserted shoreline, the body of a derelict preteen is discovered, and with him, the murder weapon that killed the official. Berzelius finds herself drawn more deeply into the case when, as she attends the boy's autopsy, she recognizes something familiar on his small, scarred, drug-riddled body. Cut deep into his flesh are initials that scream child trafficking and trigger in her a flash of memory from her own dark childhood. Her connection to this boy has been carved with deliberation and malice that penetrate to her very core.
Now, to protect her own horrific but hidden past, she must find the real suspect behind these murders before the police do.
Reviews
"Move over, Jo Nesbo"
Fort Worth Star-Telegram
Articles
---